Construction of the Brežice hydroelectric power plant LOT - T / G and EM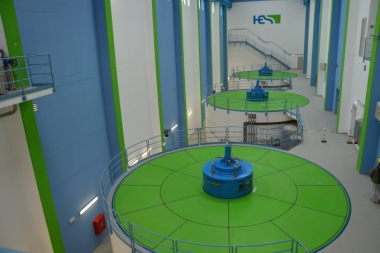 October 2017:
On Wednesday, September 27, 2017, the official opening of hydroelectric power plant Brežice was held. The construction of the fourth HPP in the chain of HPPs in the lower Sava River, began in April 2014. The opening was attended by many distinguished representatives of the state, power industry, local communities and companies. In addition to the welcome address by Mr. Bogdan Barbič, the director of HESS, who successfully led the construction project, the Prime Minister of the Republic of Slovenia, Dr. Miro Cerar also attended the opening.
On this occasion, we congratulate and thank the entire Esotech team and the supervision of Litostroj Power and Končar, who took part in the construction of the Brežice Hydroelectric Power Plant.
Read more...
September 2017:
On Friday, September the 8th, 2017, company SIJ ACRONI officially opened a 30-million-dollar investment in the AOD (Argon Oxygen Decarburisation) converter.
The honorary guest of the event and the main speaker was the President of the Republic of Slovenia, Mr. Borut Pahor.
With the new acquisition, SIJ Acroni plans to increase the production capacity of stainless and special steels and significantly reduce production time.
At Esotech, we are extremely proud of the event, as we were the project partner of the company Primetals from Austria, and at the time of implementation we successfully realized all the planned activities.
Read more...
<< Start
< Prev
1
2
3
4
5
6
7
8
9
10
Next >
End >>
Results 1 - 5 of 49